Things I'm Digging Right Now: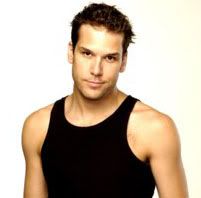 -
Dane Cook
- Why it took me this long to discover him, I don't know. I liked him on SNL, even though I wasn't sure why he was hosting. I downloaded one of his comedy albums and a Comedy Central special to my iPod and I had to stop listening to it while I was on the plane and hanging out by the pool because I couldn't hold in my laughter. It also helps that he's cute in a Ryan Reynolds sort of way. He's got an HBO comedy special airing April 15 while we're on our honeymoon. (Yay for TiVo!)
- My new cherry skirt (from Target), even though I haven't worn it yet because I haven't decided if the pleats will make my arse look big.
- My new bathing suits (The one shown is from Target, although I chose a plain black suit bottom. I got another suit from Victoria's Secret. Gotta start collecting suits for our Hawaiian honeymoon.)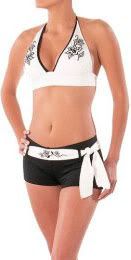 - My 1.6 lb weight loss this week, despite my eating frenzy in Florida
-
Pink's
new song "Stupid Girl" and the video for it, too. I appreciate a song that can pull off women-empowerment accompanied by laughter.
-
James Blunt's
guest appearance on this week's
Love Monkey
- NBC's fabulously funny shows -
Four Kings
,
The Office,
Scrubs
Things I'm Not Feeling:

- The stupid post office won't issue their new 63-cent stamps, including the
cute wedding ones
that would have gone perfectly with our wedding colors, until March 1. I need to send out my invites on Monday, so I'll either have to use
ugly stamps
(one 60-cent and
one 3-cent
) or two First Class stamps. Bah!
- On my flight back from Florida I sat next to a guy from Atlanta who had nothing but crap to say about Los Angeles, even though I kept telling him, "L.A. isn't for everyone. I completely understand it." He just kept going on and on about how expensive everything is, how Beverly Hills isn't as nice as neighborhoods in Atlanta and how The Ivy is a hole-in-the-wall restaurant. Thank goodness I had my iPod to tune him out. That's what I get for trying to be friendly.
- The very-likely cancellation of
Love Monkey.
Why, oh, why do they cancel great shows? So not cool.
"When people refer to 'Back in the Day', it was a Wednesday. Just a little fun fact for ya. Take that home, chew on it. It's delicious."
- Dane Cook