I made it safely to Florida. When I checked into the resort where we're staying, the manager whispered something to the girl checking me in, who in turn said, "We're going to upgrade you for free to a suite, which features a 5-foot balcony, a dining room, Murphy bed and living room!" I responded, "Sweet!" Once I got to the room, however, I got a little worried. The Murphy bed didn't look too comfortable. What I actually have is a meeting room with a bed in the wall. I figured that if the bed wasn't comfortable the first night, I'd switch rooms. Turns out that it was nice and comfy. So I have this fabulous room in a fabulous hotel.
And this is the view from one of my three balconies (yes, three balconies!):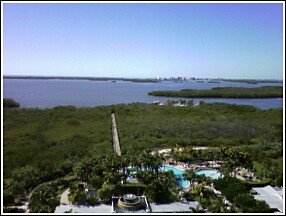 This morning I attended some sessions to write coverage for my company's site. After I wrote my article, I had about four hours of down time before our cocktail hour, dinner and after-party. (Hard work, ya know.) I hung out by the pool with my iPod and napped for a while, then strolled along the dock. It couldn't have been a more gorgeous day - a nice 70 degrees.

Then I decided to burn off some of the yummy Super Bowl treats from last night, as well as the two little muffins I had at breakfast this morning (calories don't count when you're out of town, right?) with a workout in the spa's gym. The gym, albeit small, was really cool. The treadmills have TVs in them and there are towels soaked in ice water, which felt really nice.
I've spent a lot of time - last night and tonight - going up to complete strangers and introducing myself. The first couple times were uneasy, but then I got into my groove. Last night at the Super Bowl party I found people who were standing alone, went up to them and asked what they thought of the ads (this is an audience of marketers). Tonight I didn't have such a fabulous opening line, but I did ok. I did open one conversation by telling someone that they looked like Zach Braff and Adam Levine, the leader of Maroon 5. He didn't know what Adam looked like, but he seemed happy with the compliment. Tomorrow I'll have to introduce myself to the George Clooney-look alike, the Claire Danes twin, and the guy who looks just like the bomb squad guy on last night's Grey's Anatomy.
"Before we bring democracy to Iraq or even Afghanistan, it might be prudent to bring it to Florida. We don't have to bring regime change to the whole state. We can start in Pensacola and work our way down." - Jon Stewart, Daily Show